FAST WORKS THANKS TO RENTAL
Vermeer Rent is a new entry with already many projects in the CV and it is specialized in rental service with or without operator of Vermeer trenchers. All the details are included in this interview with Sales Manager Giancarlo Cazzato.
Good news coming froma a branch of Vermeer Italia, Italian official Dealerhip of the Vermeer brand, leader in the field of excavation machines. We are talking about Vermeer Rent, a new company able to provide a specialized trenchers' rental service, both in Italy and all over Europe. 
Some first aspects: to rent a trencher today means to spare time and money. It means also that you can count on a faster execution of excavation projects and a lower amount of manpower. You will also have a cleaner, tidier jobsite area. Another aspect it is worth to underline: the versatility of the offer. Vermeer Rent, for example, lets you rent a trencher with or without the support of an operator. moreover, It offers you a rental solution "made in Vermeer",  which is a great option if you have to deal with fast projects; it allows you to test the Vermeer fleet, in case you would like to buy a Vermeer trencher.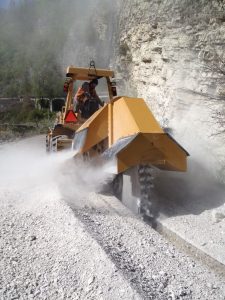 (LeStrade) Dr Cazzato, let's begin with a general framework about Vermeer Rent activity: could you please present the birth and the development of this project inside the Vermeer group?
(Cazzato)
Vermeer RENT was born in 2016 with the aim to offer an organized service, able to develop in a systematic and widespread way the rental of specialized trenchers, both in Italy and abroad, in Europe. Many companies rent these machines to use them in specific jobsites and special contexts. Vermeer Rent was born precisely because the requests of trenchers for rent have been growing constantly in the last few years. we undestood that develop this project would have been a useful idea for the market and a great growing opportunity for Vermeer group.
(LeStrade) Who does Vermeer Rent refer to and what services does it offer to  customers?
(Cazzato) Vermeer Rent offers specialized services, tailor-made offers for any company that has to deal with installation of various utilities: gas, sewers, water, electricity, optic fiber, just to have some examples. It is a useful service especially for those companies that have to complete the placement of cables and pipelines in fast, contained projects, and which therefore do not want to invest immediately in the purchase of a trencher.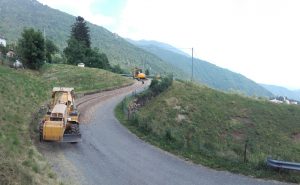 (LeStrade) What are the reasons, in your opinion, that make the rental of a trencher (as an alternative to other purchase options) a factor of enhancement for companies?
(Cazzato) The rental of trenchers is the perfect solution for the companies that want a better supervision of investments and that aim to complete every project in a faster, tidier way. Trenchers are very different from traditional systems of excavation, because they assure a lower obstruction of passages. thanks to their cutting system, it is possible to dig a trench of the exact width  and at the chosen depth to install the pipeline. there is no need for huge excavations, pneumatic hammers, bulldozers and trucks; often, the excavated material can be used to fill the trench. This reduces the environmental impact and gives to every customer the chance to forecast the total budget and plan in a faster way the project.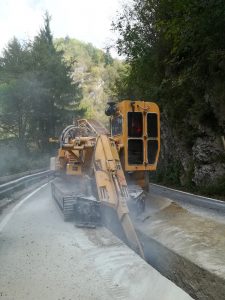 (LeStrade) Can you explain what are the differences between rental option with operator or without operator? What are the plus points that Vermeer Rent can offer for both options?
(Cazzato) Vermeer Rent offers several options, in order to better handle the requests from the field. We can offer a support that is not only "commercial", but also technical, to choose the right machine for the project you have to deal with. For this reason, there are two main rental options. The first one is a rental solution of a trencher without operator. it is the best option for those companies which already have the knowledge and the expertise to use a trencher by themselves. The second option is a rental solution which is more articulate: we  rent you a specialized trencher with a skilled Vermeer Rent operator who will operate the machine for you. We can make rental agreement based on daily fees or on linear metres. 
(LeStrade) What are the advantages in terms of savings, for companies who choose Vermeer Rent?
(Cazzato) First of all, a rental option is less demanding in comparison with the purchase of a new trencher. It can be an opportunity to find out if this technology is suitable for specific projects and therefore to "test" the equipment before a purchase. It is possible to forcast in advance what the total cost of the project will be and therefore to control the budget. Moreover, Vermeer Rent provides a complete assistance to the customer: technical support to understand how to develop the project and to choose the best trencher, operational support on the jobsite and widespread service assistance.
(LeStrade) How many trenchers are included in the fleet?
(Cazzato) At the moment, there are many trenchers that can be applied to different projects. We have utility trenchers on wheels: RTX450 with rockwheel and excavation tools of 8/10/15 cm depth, 49 hp; RTX550 with rockwheel, options of 8/10/15 cm of depth for the excavation tools and a 67 hp engine; RTX1250 with 120 cm depth rockwheel and 20/25 excavation tools, 120 hp. Vermeer Rent fleet includes also track-trenchers, too. We have a T558III with sliding offset, depth up to 120/160 cm and 35/45 cm sections, 185 hp; this model is equipped with a conveyor belt that stays in the shape of the equipment, which allows the trencher to work even on roads that are 2,6 m wide. Then there is a T655III with adjustable boom up to 180 cm deep and sections of 35/45/60 cm, 250 hp. The biggest one is the T855III, reaching 300/360 cm of depth with 60/90 cm sections, 350 hp. all this equipment makes easy to find the perfect machine for any specific project. we can plan a tailor-made rental solution for every jobsite.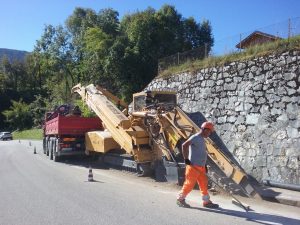 (LeStrade) To sum up, can you do some practical examples of rental projects that were significant and typical for your rental solution?
(Cazzato) I could talk about many interesting projects. We rent a RTX1250 trencher near Vicenza, northern Italy, for the placement of an electric cable of 160 mm of diameter. We completed the trenching on a hill, the project was 3 km long and the trench was 25 cm wide and 120 cm deep. We recently used a T655III in Bergamo, near Milan. We had to install a water line, 1 km long, with a trench of 60 cm wide and 160 cm deep. However, we also deal with bigger projects. for example, we worked in Sardinia, near Porto Torres, with a T855III Trencher.  this project was quite peculiar. It was a double trench cut for an overall width of 190 cm. The depth was not regular, we reached  360 cm. We had to install a water line of 1000 mm diameter! the project was 9 km long and it was a rental option with operator. Then, there are also example of "mixed rentals",  which means that a customer rent different units for the same project.  a recent one is that of Lamon, near Belluno, northern Italy. It was necessary to place an electric pipeline of 160 cm of diameter. this project was split in two parts, since the peculiar conditions of the area where we had to work. We used a RTX1250 with rockwheel for 4 km, since the soil was almost totally made of rock. the trench width was 20 cm and the depth was 130 cm. for the remaining 5 km we used a T558III trencher because it was necessary to install two cables of the same diameter in a single trench.